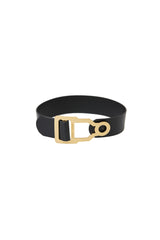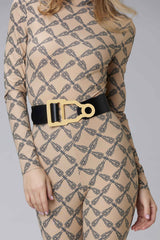 Radical Leather Belt Black
Leather belt with oversized suspender detail
MURMUR X OPTIMEF leather belt with oversized suspender detail.
Drawing on the shared values and core strengths of timelessness and bold design, the Murmur X Optimef capsule collection fuses the sensual, feminine Murmur aesthetic with Optimef's clean lines and functionality. The design orbits around the most recognizable Murmur symbol, the suspender clip, which is re-imagined in true Optimef manner as a simpler geometric form. Crafted in Romania from top grain leather and custom-made brass accessories, all the pieces in the collection are meant to be shown off and worn with confidence.
INFO
Italian leather adjustable belt with oversized suspender-buckle.
FABRIC
Main:
100% Italian Goat Leather.
We ship internationally through DHL Express or UPS. Free delivery for orders over €350.
The shipping takes between 2 to 5 days in Europe, and up to 12 days in the rest of the World, depending on the country. All shipments outside the EU may be subject to import duties and taxes which will be calculated at checkout.You can choose to pay them through us or at the customs upon their arrival to your country. For USA deliveries, orders under $800 are not subject to import duties and taxes. More info here.
You may return the products within 14 days, starting the next day after receiving. The return shipping is at your cost.
Use our
Returns Center
to request a product return.
More info on our returns policy,
here
.
We're making it easier than ever to shop your MURMUR pieces, specially designed according to your measures. Opt for made-to-measure services by contacting us via the contact form
here
. Making a custom size adds an extra 15% cost to the displayed price.